First decent ride in a while, to Belgrave and Ringwood
Sunday, January 20th, 2008 at 3:11 pm
Yesterday Damien and I went on our first ride since last May, what was planned as a nice big loop that included Belgrave and Croydon.
First we went via Scoresby and Upper Ferntree Gully to Belgrave:
The new bridge for the Eastlink Trail is well underway at the south end of Jells Park:
And, despite the website saying otherwise, the upgraded trail south of Ferntree Gully Road is open:
all the way to where Eastlink crosses the Dandenong Creek in Mulgrave:
But some landscaping and cleanup is still to be done.
Since it drizzled for much of the ride to Belgrave we decided to catch the train to Ringwood and continue riding from there: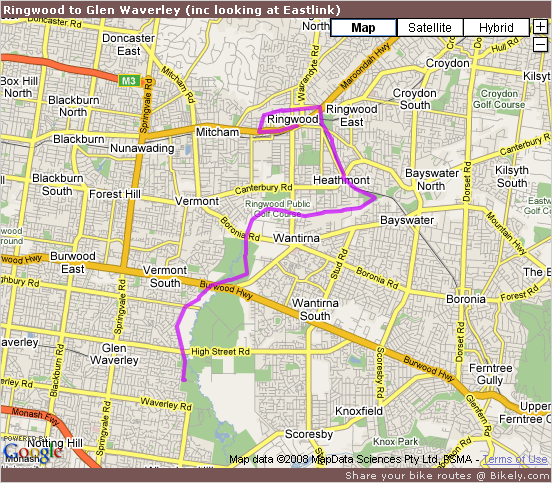 Paths near the Ringwood Bypass are done, but not yet open:
And the upgraded path through Koomba Park has been open for six months now:
Apart from the drizzle it was an enjoyable ride and once Eastlink is complete there will be a decent network with many combinations to enjoy.
Part of what we skipped was a loop from Bayswater to Croydon (via the Tarralla Creek Trail), Ringwood (via the Upper Mullum Mullum Creek Trail) and back to Bayswater: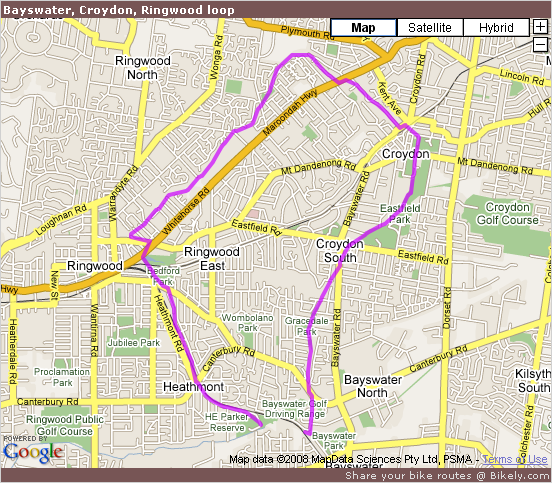 Some more photos are available in my Bike paths and Eastlink (January 2008) Flickr set.
Tagged with: cycling, eastlink, flickr, photos

5 Responses to "First decent ride in a while, to Belgrave and Ringwood"