Late night cable replacement
Saturday, January 18th, 2020 at 11:52 pm
Power and internet comes into my home above my bedroom window. There have been a few times I have been laying in bed watching the cables whip around in the wind, wondering what damage that could be causing and how long the cables should last. This has in part been answered for me as the power cable (likely from when this place was built around fifty years ago) has now been replaced.
Tonight's events possibly started around 8PM when I started to make some dinner, with one thing on the stove I started another in the microwave, at which point the kitchen lights dimmed (more than ever before) and in my study the UPS started to beep. For a while I had been tracking under voltage in my power because often the UPS would be boosting from battery, this time the voltage had dropped enough that the UPS was still able to boost, but also wanted to start shutting things down. Luckily I was done with the stove and microwave, once they were off the voltage was back to ok levels and the UPS was happy.
After I ate my dinner I started to check my logs and research who to contact about this, then my phone rang. It was my neighbour from the other unit asking if my power was on, because hers was not. This was unexpected as our units are semi-detached, we share the same power cable and the meters are in the same box. But then my power also went out.
Heading outside to talk we saw that the streetlights were on and that other houses in the street still had power. In the meter box I saw that both of our meters were on, so had our power been turned off remotely?
United Energy is my electricity distributor, nothing was listed on their outage page and as I was looking for a faults number to call I received a call. It was someone from United Energy to tell me that my power had been switched off as they had detected a fault. They asked some questions around if I had noticed any issues (I said I had) and told me that a work crew had already been requested and should be there some time that evening.
About an hour later the crew arrived, two people, one in a van and the other in a bucket truck. There were not the friendliest of people (they did have a job to do after all) but from what I could gather they identified the cable as old so would be the likely issue. An hour later they had replaced the cable and run some tests, my power was now back on and they were gone.
I mentioned that I was checking my logs, so what logs do I have?
After I resolved the issue of my UPS shutting down every few weeks I noticed that something was happening to cause the fans in the UPS to come on. The UPS is connected via USB to my linux box but all I was logging was the power output every five minutes. Adding the UPS component into Home Assistant gave me a nice view (and history) of a number of values:
I set up an automation to notify me (via Pushover) whenever the status changed. Over time I was able to see that the UPS was detecting a drop in input voltage, so was using the batteries to boost back up to a normal level. This would typically happen if I used two large applicances at the same time (eg washing machine and stove), but also at other times as well. It was on my todo list to find out what the acceptable voltage range was and probably get it looked at.
So what was the voltage doing tonight? This: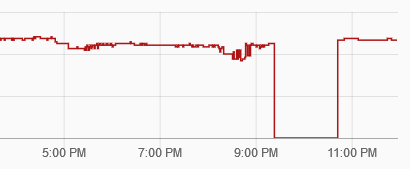 A few things can be seen:
Around 230V before 5PM when I wasn't home
Initial drop to around 210V as I put my hot water on boost, then sitting around 220V
Big drop to 200V and then as low as 180V around 8PM
No data when the power was off
Back to 233-239V once I turned everything back on
I will continue to monitor the UPS status with the expectation that I should not (or at least rarely) get notified about undervoltage again.
The final thing I want to say now is that this has been an interesting coincidence. The reason I needed to boost my hot water was because it had been turned off all week while I was at LCA2020 where the overall theme was security and privacy. The specific coincidence I am thinking of is that there was one talk about the smart meters (I hadn't realised that outside Victoria the rollout was still ongoing and contentious) and I was part of a couple of discussions about their advantages and disadvantages. In this case the remote detection of a fault and quick rectification was a good thing.

We know when you are sleeping: The Rise of Energy Smart Meters – Rachel Bunder (LCA 2020)
Tagged with: home automation, power