Water in two forms
Sunday, March 24th, 2013 at 9:20 pm
Today's leg of our Tasmania road trip started with water in one form, and then ended with water in another form.
The first form was the ocean, which we followed from Arthur River through Couta Rocks to Temma. We were surpised by how many coastal 'shacks' there were, most quite substantial and a few with slips for fishing boats.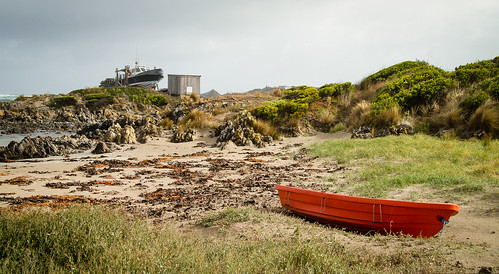 After leaving the coast we followed the Western Explorer Highway south through a variety of environments before arriving at Corrina with its ferry across the Pieman River.
The remainder of the day was dominated by dams and power stations, of course with their water in a stored form. There were a number of them, including one that diverted water through a tunnel from one river system into a reservoir on another river system.
At one point we stopped at a lookout, one that was in need of some upkeep, a situation that we have often found.
Tomorrow we are off to Montezuma Falls (the highest in Tasmania) and then mining history at Zeehan.