My email setup
Tuesday, April 14th, 2009 at 8:25 pm
It is now the end of a five day (one more than most others as we get Easter Tuesday) long weekend. Apart from relaxing and watching a lot of tv, I did manage to do some cleaning up.
In the two and a half years since I shifted my email to my Ubuntu box I have been meaning to post about it (one of the unfinished posts). Over the weekend I came across some notes that I had made when setting up everthing under Ubuntu (from packages with minimal configuration), one page of which is a diagram.
This seemed like a good starting point so here it is: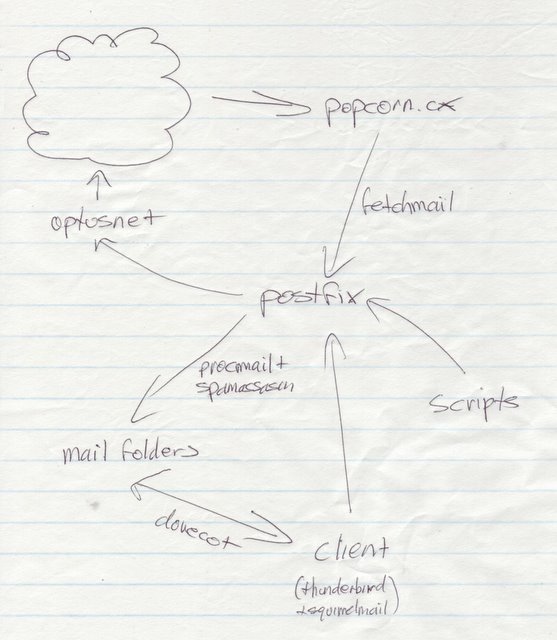 After all this time the setup has not changed, apart from the addition of another client in the form of my iPhone.
So if someone were to send me an email message:
It is delivered to a mailbox on my hosting provider (possibly going through a forward)
Fetchmail runs as a daemon and polls the mailbox every five minutes and delivers to the local postfix
Postfix determines the message is for a local mailbox and hands it to procmail
Procmail writes it into a Maildir mailbox, possibly running it through SpamAssassin first
My other source of messages is from scripts (such as rss2email) that run on the same box, these are also delivered to postfix and then to procmail.
If I want to read the messages all of the access is through the Dovecot IMAP server, only configured for SSL, which works nicely for Thunderbird, my iPhone and SquirrelMail (which I rarely use).
When sending a message, Thunderbird on my desktop is configured to send it through the previously mentioned Postfix. If it is addressed to an external address the message is handed off to my ISP's SMTP server for delivery (I would prefer to deliver it directly, but their network configuration prevents that). A copy is placed in my sent folder over IMAP.
The fact that none of this has changed in over two years shows how stable this has been for me, although there have actually been some internal changes:
Since OSDC last December I have been filtering all of the messages from rss2email into a separate folder. This enables me to process news less often than other messages.
I no longer have a copy of all the SPAM messages I have received in the last four years. This was 2.6GB of messages that I never did anything with except a couple of times to check what addresses I was receiving the SPAM through. Now once I have run sa-learn on the messages that I have manually filtered and reviewed how I was getting the SPAM, I will simply delete them.
Now, after finally posting about it, I have another post to write: about whether or not to ditch this setup and outsource it to the cloud. Actually that is two posts as I have another (long) post in mind about how much to trust the cloud.