Riding out west, including going the wrong way
Sunday, March 22nd, 2009 at 5:32 pm
Yesterday Damien and I went for a ride: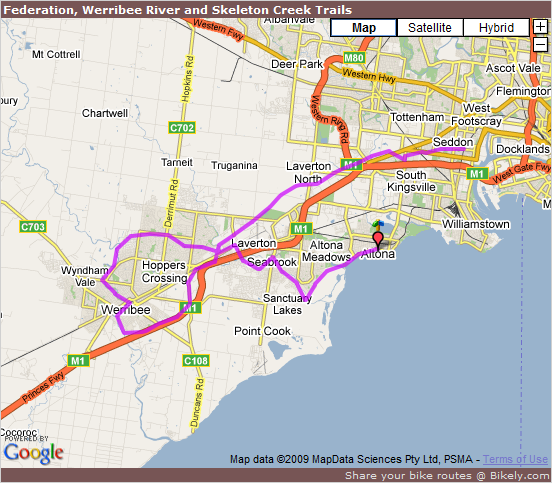 We covered:
The Skeleton Creek Trail was not part of our initial plan, our plan was to head back up the Federation Trail and around the Western Ring Road Trail to Albion Railway Station. Because of this change we were not aware that there was only one bridge on the Skeleton Creek Trail that allows you to cross from the west side of the creek to the eastern side.
We did not use the bridge and continued along the west side of the creek, which meant that once we reached the end of the path there was no way to cross over. However Google Maps did show a ford across the creek which we did use to cross over, but only after jumping a fence into the Cheetham Wetlands. We then crossed over a small channel to get back to the path on the east side of the creek.
In hindsight we should have crossed the creek at the bridge, but the way we ended up going was definitely more interesting.
Tagged with: cycling